CNC Tools Accelerate Production Time for Broaching Card Slots Used in Electronic Housings for Defense Applications
CNC Indexable Broaches Eliminate Secondary Operations, Reduce Costs & Decrease Cycle Times
Historically, broaching was a secondary operation in parts manufacturing. The process would take place on an arbor press, hydraulic press or special purpose broaching machine. That manual step could add hours or days to production time.
Before the use of modern machine tools and automation, secondary processes were acceptable. In today's environment of "done-in-one solutions," linear broaches made manually are a non-starter.
That's why indexable CNC broaching is a valuable process. By using the right tool for the job, along with the right program, we can coordinate the broaching of slots with other manufacturing processes, often on the same machining center, eliminating the need for secondary operations.
From Days to Minutes
As a former owner of Hoppe Technologies in Chicopee, MA, a job shop specializing in aerospace and defense contract machining, I have a great deal of experience with producing parts for the defense and aerospace electronics industries.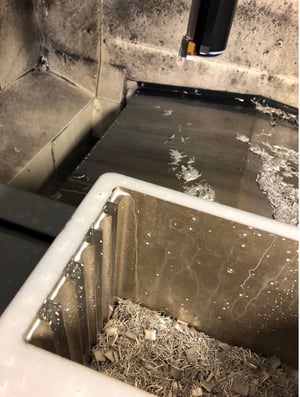 At my former company, when we had to manufacture parts, we would make them in separate pieces to produce the circuit card slots in the machining center. Then we would carefully jig bore dowel pin holes to exacting tolerances in a fixture that would be used to tack-weld the pieces together before the entire assembly was sent away to undergo a dip-braze process that would result in a one-piece construction with all parts inside the box.
Following completion of those welding and dip-brazing processes, the parts would require straightening and finish machining. Those expensive processes would have been less costly and faster by incorporating CNC broaching to produce a one-piece hog-out or cast construction.
Another way of producing the slots in those parts would have been to use a right-angle head in the CNC milling center, but that option is not always available.
Slotting parts is an ideal application for CNC Broaching because insert-based tooth broaching tools fit perfectly into the machine's tool carousel, requiring no modification to the spindle nose, etc. Although the tools are readily available in standard sizes, it's easy to produce custom sizes and shapes.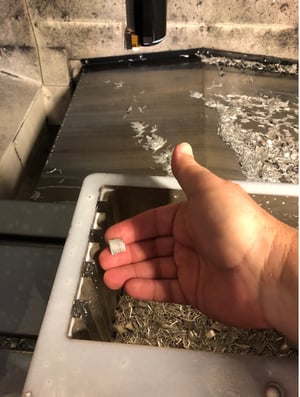 For the magnesium housing pictured, it takes 18 minutes of cut time to install the card-guide slots using duMONT CNC indexable broaching tools. The process requires a spindle with a brake so the tool can be properly oriented. The depth of cut on this item is .004 inches per pass, which produces a very fine chip under normal flood coolant pressures.
Tool pressures are less than drilling a ½-inch hole in the part, which is well within the envelope of spindle design. These broaching operations can be accomplished on horizontal and vertical CNC machining centers, as well as on CNC lathes by using the machine's Z-axis.
As Easy as 1,2,3
Now that I'm in the broach tooling business, I'm finding ways to apply CNC broaching technology to products like those my former company produced successfully, but at a much higher cost than if those items had been made by using modern broaching techniques.
We see this new broaching technology as a way forward for companies needing the geometry typically produced by a linear broach but wanting to perform broaching as part of the machining cycle rather than as a secondary operation.
When I purchased The duMONT Company, it had a narrow line of CNC broach products limited to keyway production and splining tools. duMONT is the world's oldest and largest broaching brand. For more than 75 years, duMONT has also been North America's most trusted source for broach tools.
Now a brand of Pilot Precision Products, duMONT is part of a large, modern company that has a vast array of resources to help customers succeed by reducing costs through improved optimization of the production line and of machine tools.
For companies committed to eliminating secondary operations and to taking advantage of unattended operations, this new broaching capability from duMONT is key. As always, our Tooling Concierge service offers CNC programming assistance with optimizing the use of every tool.
As easy as 1,2,3:

To improve your efficiency while reducing production costs...